The Literacy of Video Games: What Kids Learn, How We Can Help and Why It Matters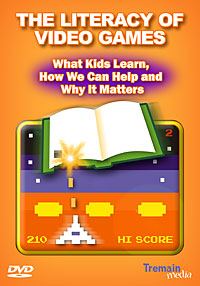 Learn how to connect with our children and our students around video game play and why it is important that we do.
This DVD includes expert guidance for both parents and teachers about how to value the literacies already inherent in video games while addressing the more controversial aspects of game play. Purchase from us directly or through Amazon.com
Video games have received considerable attention in recent years, mostly negative. Is this criticism warranted, or are we overlooking the positive aspects of video game play? Are video games simply entertainment, or are they also powerful learning tools? There are many effective ways to connect wtih our children and students in their video game play. Why is it crucial that we do so?
Related Entries from the Blog