I Love When We Count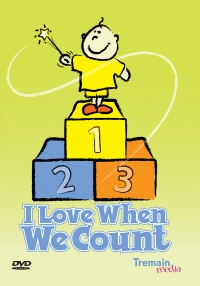 Math is Everywhere
Families are important in helping children build math and numeracy skills. I Love When We Count emphasizes learning as a part of a child's everyday world and helps parents integrate and highlight math activities in daily life. I Love When We Count is a DVD for families with children ages 0-7.
How You Can Be Involved
Literacy organizations, schools and libraries buy I Love When We Count at low prices, in bulk, to give to families for free. Larger orders can carry your organization or school's logo. I Love When We Count can also be used in parent workshops or incorporated as part of your parent-resource library. This DVD supports families in numeracy while supporting you; teachers, early-learning leaders and librarians in the important work that you do.
Parents and Grandparents
This is the perfect gift for a new mom or dad. It is also a great purchase for those parents who want their children to succeed in math. Purchase from us directly or through Amazon.com
I Love When We Count is a really nice way to share best practices.

-Fiona Morrison, Family Literacy and Early Learning for 2010 Legacies Program

Numeracy is Literacy: Give the Gift of Literacy
Rotary Partnership
We work with Rotary Clubs to help spread literacy in their communities. So far 1000 DVD's have been given for free to families through clubs in District 5020 and District 5040. This Rotary initiative is like the dictionary project where ia club buys in DVD's in bulk to gift to community groups or school children. The Rotary version of this DVD includes former International President of Rotary International, Wilf Wilkinson. Information about the program can also be found here: http://www.rotary5020.org/literacy/i-love-when-we-count.php


People don't often think of numeracy and literacy together, we have artificially separated numeracy and literacy in school but truly numeracy is literacy.

-Jeannie Deboice, M.Ed., Numeracy Expert
——-
Title: I Love When We Count
Copyright: 2008 Tremain Media Inc.
ISBN: 978-0-9736905-3-8
UPC: 6-20953-35892-0
Director: Leah Tremain
Partners: School District #72, Rotary Club of Campbell River Daybreak