I Love When You Read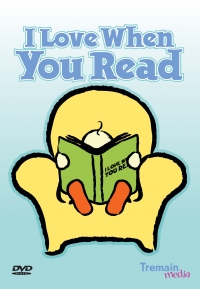 A Great Addition to Schools
Schools purchase I Love When You Read to support families and to support teachers. Families registered for Kindergarten and parents with children in school have received this DVD as a gift. It is available to families through school libraries and is sometimes tucked into knapsacks for children to take home and watch with their parents. Schools, libraries and literacy initiatives are eligible to receive the DVD's now and pay later.
Perfect for Books for Babies, Literacy Initiatives and Family Organizations
I Love When You Read has been included in Books for BC Babies and it is in every library outlet in British Columbia. You can also find the DVD in Strong Start Centres and many Ontario Parenting and Family Literacy Centres. Bulk rates and a variety of licensing is available to meet your budget and your needs.
When families receive I Love When You Read it is not thrown away like so many pieces of paper but it is placed in DVD collections where they can refer to it time-and-time again. This DVD is especially effective at bringing literacy information to parents and caregivers with low-literacy rates.

-Anne Boyd, Literacy Now Coordinator
An Entertaining DVD for Families
I Love When You Read, is an entertaining literacy DVD for families of children ages 0-7. I Love When You Read helps parents support their child's success in reading. It offers simple tips and tricks so you can learn the best method of ensuring your child's reading success. Purchase from us directly or through Amazon.com

A Lovely Gift for Parents and Caregivers
Give the gift of literacy at the next baby shower, birthday or Christmas and give parents I Love When You Read.
——-
Title: I Love When You Read
Copyright: 2007 Tremain Media Inc.
ISBN: 978-0-9736905-2-1
UPC: 6-20953-35902-6
Director: Leah Tremain
Partners: School District #72, Ministry of Children and Family Development, Altrusa International Campbell River, University of Victoria Technology Transfer, BCAA Traffic Saftey Foundation