Rotary, The Rotarian and I Love When We Count
May 04, 2012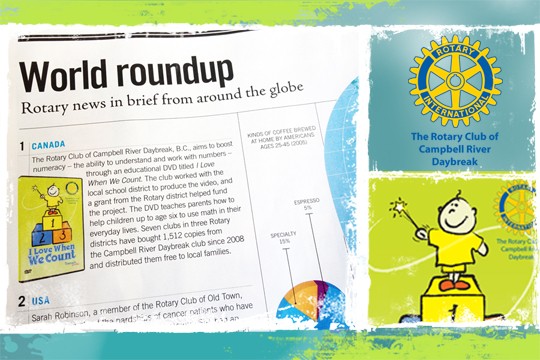 The Rotarian, a magazine that is delivered to every Rotary member in Canada and the United States, featured the DVD, "I Love When We Count." Very exciting news indeed! Here's how your Rotary club can get involved:
Numeracy is Literacy
Get involved in the exciting Rotary literacy project, "I Love When We Count." By providing educational content in a DVD format we can share literacy information with those that need it most, those with low-literacy.
How You Can Be Involved
Rotary Clubs organize initiatives where the DVD is given to families for free. The President of Rotary International 2007/2008, Wilfred J. Wilkinson, provides a message to parents as a DVD special feature. Families receive a gift of literacy and are reminded of your commitment and participation in literacy initiatives.
We will pool all Rotary Zone 22 orders together to get the lowest possible bulk rate. We are aiming for a bulk rate of $3.50 per DVD.
Math is Everywhere
"I Love When We Count" emphasizes family numeracy learning as a part of a child's everyday world. It will help parents integrate and highlight math activities in daily life. "I Love When We Count" is for families with children ages 0-6.
Give the Gift of Literacy
"I Love When We Count" is an affordable and deeply impactful literacy service project. Over 55,000 families have received "I Love When You Read" and "I Love When We Count" DVD's for free. Let's share these gifts of literacy even further.
Please call or email me, Leah Tremain, for more information